Southampton's Bollywood wedding set for city parks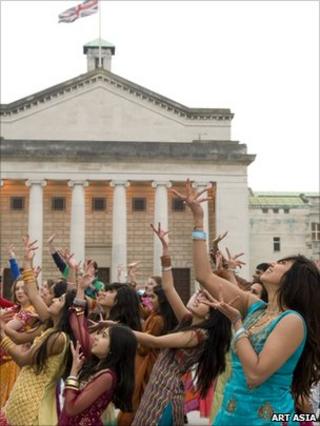 Final preparations are under way for an outdoor, Bollywood-style mass arts performance in Southampton.
Bollywood Baraat is based around an Indian wedding procession through the city's parks.
Organised by Art Asia with other arts organisations, more than 380 performers, musicians and volunteers are due to take part on Saturday.
Art Asia's Lucy Atrill said: "It will be a spectacular event and a real jewel in Art Asia and Southampton's crown."
"It's been just like a real wedding - 10 months in the planning. When I saw the bride in her dress in rehearsals, I felt quite emotional," she added
Members of the cast have been rehearsing "into the night" at Southampton's Vidic Society Hindu Temple. A large golden stage is being assembled in Guildhall Square before the performance on Saturday night.
Pupils as extras
The music for Bollywood Baraat has been written by Southampton-born Niraj Chag and the script by award-winning playwright Lisa Evans.
As well as live performance and dance, the project also incorporates filmed sequences produced by community film making group, City Eye.
Scenes have been shot in locations around the city, with pupils from local schools acting as extras.
Six schools are also involved in the wedding procession which will see professional actor Reeda Harris, who plays the groom, riding through the city's parks on horseback.
The interactive elements to the project include live tweeting during the performance and the character Aunty Gita dispensing advice via the social networking site.
Rehearsals for Bollywood Baraat have continued despite Art Asia having its funding cut from next year.
Of the six groups with reduced funding from Arts Council England, Art Asia was the hardest hit with a 63.2% cut in its budget - a £130,000 reduction in its £287,315 annual income.
Ms Atrill said: "It has taken two years to raise the funding for Bollywood Baraat which has not been affected by next year's funding cut. While the news about the funding was disappointing, this weekend will still show the best of what we can do in Southampton."
Bollywood Baraat, organised by Art Asia in partnership with City Eye, the Nuffield Theatre and the John Hansard Gallery, takes place on 21 May 2011.