Royal wedding street party billed for clean-up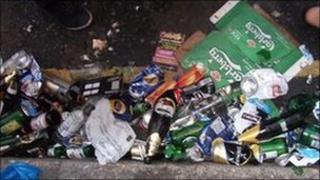 The organiser of a royal wedding street party has been billed £2,000 for its clean-up, Southampton City Council has said.
The local authority claims it took three hours to clean Newcombe Road, Southampton, and has demanded payment.
Organiser Matt Caldwell, 22, told the BBC he had not received a letter and said: "There's no way the clean-up cost £2,000. It's impossible."
More than 2,000 people attended the event on 29 April.
Mr Caldwell had previously described the event as "the largest street party in Southampton's history".
Council leader Royston Smith said: "I am very concerned about the impact the event had on local residents and the clean-up costs for the council the following day were completely unacceptable.
"We have now identified the co-ordinator of the event and have sent them the bill for the clean-up costs."
Mr Caldwell was surprised by Mr Smith's statement and said council workers came "uninvited", as he had cleaning volunteers.
"I don't understand how three hours of putting bottles in bags cost £2,000", he added.
Oxfam buckets
Lorraine Barter from the local residents action group told Oxfam she was angry the event was billed as an "Oxjam" party, in association with the charity, because she believed the party harmed Oxfam's reputation.
Mr Caldwell said proceeds from Oxfam fundraising buckets went towards sound systems and security to "cover the costs", which he said those collecting made clear.
He added a percentage of money from burger vans would go to the charity but would not state an amount.
Oxfam said the organisation last contacted Mr Caldwell on 3 May but he has not replied.
Oxfam said: "Each event is organised and promoted by the individual organiser, and Oxfam is not responsible financially or legally for their Oxjam event.
"We offer full training to event organisers, which refers to health, safety and legal issues and gives clear guidance on the basic standards to which we expect each event to conform."