Southampton City Council union workers in strike action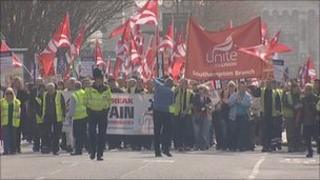 Workers in two unions at Southampton City Council are to start indefinite industrial action from 23 May in a row over proposed pay cuts of up to 5.5%.
About 2,600 members of Unite and Unison will be undertaking action short of a strike, including a ban on overtime and working to rule.
A series of strikes will also be held, starting with refuse collectors, although dates are yet to be announced.
The city council said the pay cut will help save 400 jobs.
It admitted it may still have to make further redundancies even with the salary reduction.
Unite said its 692 members working for the council had been balloted, and voted 51% in favour of strike action and 85% in favour of industrial action short of strike action. The turn-out was 42%.
'Contingency plans'
In a separate ballot, 56% of Unison members voted in favour of strike action.
Mike Tucker, Unison branch secretary, said: "It is council workers who keep the city running, not councillors.
"Only a negotiated settlement can avoid a summer of strikes and disruption."
Leader of the Conservative-run council, Royston Smith, said: "I am very disappointed that the unions have voted for industrial action over the changes to terms and conditions.
"Less than 500 staff voted to strike and I don't believe they are representative of the majority who just want to get on and deliver services for the city and its residents.
"We will do all we can to ensure that any impact of this industrial action is kept to a minimum and have robust contingency plans in place."
In February, councillors finalised £25m budget cuts and said all workers earning more than £17,500, which is 65% of staff, would have their pay cut by reducing working hours.
Staff earning £17,500 to £22,000 will have their pay cut by 2%, those in the £22,000 to £35,000 bracket will have pay cut by 4.5%, salaries of £35,000 to £65,000 will be slashed by 5% and those earning more than £65,000 face a 5.5% cut.
In March, members of the council's GMB Union voted nine-to-one against the planned cuts and may now be balloted on strike action.