St Peter's Theatre in Southsea faces uncertain future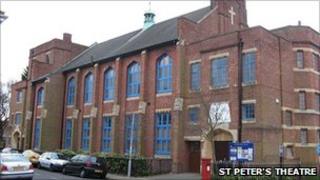 A theatre in Southsea, at the centre of community arts for almost 90 years, is facing an uncertain future.
St Peter's Church on Fraser Road is considering relocating and selling the church building and the adjoining theatre it owns and operates.
Campaigners say the theatre is "absolutely at the heart of the city's thriving theatre scene".
The church said no decision has been made and the consultation on the building's future was continuing.
Built in 1923, St Peter's Church has been used as a venue for theatre groups from around Portsmouth as well as community organisations who make use of its side rooms.
Its size and modern technical facilities are regarded as unparalleled among similar venues, allowing amateur theatre companies to stage more complicated performances.
'Community importance'
Lewis Bailey, from the Phoenix Players, said: "There is affection for St Peter's and a recognition that is of cultural and community importance.
"We're mindful it is a church asset and it is the church's to do with as they see fit. There are several options and naturally we want to do everything we can for our preferred option to retain the facility."
The Reverend Alex Hughes, vicar of St Peter's Church, said no decision has been made on the theatre's future and a consultation is on-going.
He said: "The theatre has some remarkable features, it also has some significant problems and requires significant investment in areas such as heating and disabled access."
He added that he wanted to put the church's facilities to the best use for the local community.