Cliff diver Gary Hunt defends world title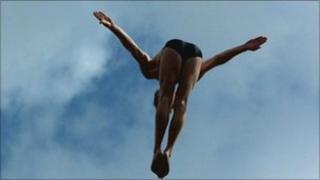 An athlete from Southampton is in the process of defending his title as a world cliff diving champion.
Gary Hunt, 26, is currently competing against 11 other professional divers for the extreme cliff diving crown.
He said: "I feel scared every time I go up, but it's such a great feeling jumping off, being in the air, feeling free and in control of your body."
The divers leap from 27-metre (88.5ft) platforms and are judged on take-off, position in the air and water entry.
To cope with the mental pressure of the dive, which takes 2.34 seconds, the elite athlete has a relaxing hobby.
He said: "I often juggle, I find it's impossible to juggle and be thinking of what dive you've got to do next, you just have to think about what you're doing at the time."
The reigning champion is currently halfway through the competition, which takes place in seven locations around the world.
The 12 top-flight divers are judged by five experts.
The next round in the competition takes place in Greece on May 22 - the final stop in the series is Yalta, Ukraine on 4 September.