Car crashes into hole in Hampshire road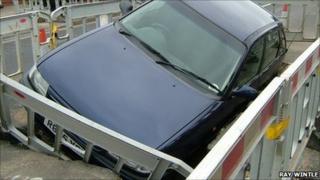 A driver ended up in a tight spot when his car careered through roadwork barriers into in a hole in the road.
Eyewitness Ray Wintle said the man managed to climb free after his Vauxhall Astra crashed in Hart Plain Avenue in Waterlooville on Tuesday.
Mr Wintle said the driver told him he was forced to swerve out of the path of an oncoming vehicle. The hole was dug by engineers replacing gas pipes.
Mr Wintle said: "He said it had all happened so quickly."
He added: "I was looking out of my kitchen window when I saw this car stuck in the hole.
"It was a bizarre scene but I spoke to the driver, who was unharmed.
"It (the car) probably needs a respray job down the rear side and the tracking has probably gone but otherwise it looked driveable."
Police were called to the scene and the car was later recovered.
A spokeswoman for Southern Gas Networks said: "Luckily when the accident occurred none of our engineers were working on this section of the network.
"This particular section of the network did not yet have any piping in it so consequently there was no damage to our equipment or pipes.
"Our engineers were, however, working nearby so were on hand to make sure the site was made safe again quickly."