Charity match for paralysed Legoland stunt performer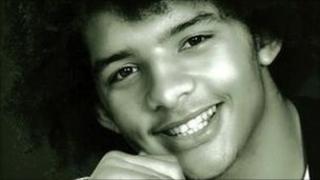 The family of Southampton stuntman who was paralysed in an accident while performing at Legoland Windsor are holding a fundraising event.
Jay Young, 22, was seriously injured after landing on his head during a rehearsal at the theme park in March.
The "Jay United" match on 26 May will be held at St Mary's Stadium in Southampton.
The Health and Safety Executive (HSE) is investigating the incident, which happened when the park was closed.
Mr Young is being cared for in Southampton General Hospital following the incident on 28 March.
'Stomach in knots'
His older brother, Lewis Young, who is also a stuntman said: "I can't see him being like that for the rest of his life.
"Every time I go to see him my stomach is in knots.
"That's the thing that's driving me crazy, what's going on in his head, how's he feeling."
The family of Mr Young, who was a keen footballer, will play in the fundraising match.
His former AFC Totton and Brockenhurst team mates will also take part.
Money raised will go towards Mr Young's care.