Summer Sky Ride cycling returns to Southampton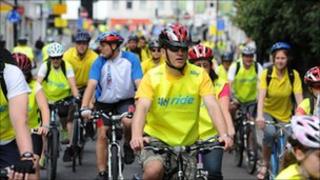 Sky Ride, a day when cyclists are able to ride through the city without traffic, is returning to Southampton this summer.
Last year more than 10,000 took part in the day and organisers hope it will be even bigger this 14 August.
The free event is part of a national campaign to get one million people cycling by 2013.
It also raises the city's profile, encouraging visitors to come to Southampton to participate.
This year's national Sky Ride will be larger than last year, when over 200,000 people took part.
There will be events across more than 13 towns and cities in the UK.
Leader of Southampton City Council Royston Smith said: "I'm delighted that Sky Ride is returning to Southampton this summer.
"It will be another great boost for the city and will be a fantastic way for people to enjoy all that Southampton has to offer.
"Sky Ride will open up the streets for cyclists for one special day and inspire people to get back in the saddle and have a wonderful day out with friends and family."