Portsmouth war hero James Ockendon's bench restored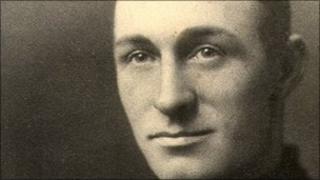 A bench commemorating one of Portsmouth's most celebrated World War I soldiers has been restored.
Sgt James Ockendon was awarded the Belgian Croix de Guerre and the Victoria Cross, Britain's highest honour for those in the armed forces.
Portsmouth City Council also named Ockendon Close in his honour.
Now, at the suggestion of his grandson, the commemorative bench in Burgoyne Gardens, Southsea, has been restored. Local craftsmen did the repairs.
Enemy attack
One of nine children, Mr Ockendon had worked as a crane driver in Portsmouth dockyard before the war.
He returned home a hero of the Great War. Cheering crowds greeted him in Portsmouth in 1917 after he was presented with the Victoria Cross by King George V.
Mr Ockendon was a 26-year-old sergeant when he led his men during a heavy enemy attack, with his battalion separated.
The battle took place east of Langemark, Belgium, in October 1917. Mr Ockendon was acting as company sergeant-major.
Under heavy fire, he captured an enemy machine-gun and stormed a barn full of enemy soldiers. In the fight he killed four of the battalion and took the remaining 16 prisoner.
Mr Ockendon died at home in Southsea aged 76.
'Mark of respect'
In honour of his grandfather's memory, Malc Ockendon instigated the repair of the commemorative bench.
He persuaded his company, the Portsmouth Craft and Manufacturing Industries [PCMI], to carry out the restoration.
The bench is now back in Burgoyne Gardens, with a new plaque to the soldier and his wife, Caroline.
The company also presented a smaller version of the bench to James's son, now aged 89, who is also named James.
Malc Ockendon said: "It's a wonderful mark of respect to my grandfather's memory that PCMI have done this.
"My dad will now be able to make good use of the mini-bench at home without a trip to the seafront."