Hampshire council revises Sure Start plans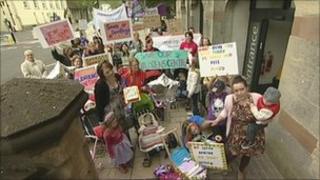 Plans to re-organise Sure Start children's centres have been revised by Hampshire County Council after opposition from users.
More than 1,200 responses were received in a consultation but campaigners said the council's process was "inaccessible and complicated".
The proposals are intended to save £6m from the children's centres budget, a 35% reduction in funding from the council.
A decision will be made on 27 May.
The revised report proposes keeping the 81 children's centres as local services.
'Positive step'
It nearly doubles the number of suggested "management clusters", or groupings of centres, from eight to 15.
The report also suggests allowing the three children's centres at maintained nursery schools to remain under the schools' management.
In a statement, the council said: "The revised proposals will ensure that centres stay open.
"The local focus and identity of the centres will be sustained."
Kate Reynolds, of the Save Our Children's Centres Hampshire campaign (SOCC), said: "Whilst it is a positive step to see the number of clusters increased from eight to 15, I still have massive concerns about the level of service in the future.
"There has never been any real clarification as to how merging differs from closing."
Explanatory notes
The county council intends to save about £20m from children's services as a whole.
Around 57% of the more than 1,200 responses came from parents and carers who use Hampshire children's centres.
However, the council data revealed a total of 13,276 people viewed the online document, indicating most did not then go on to lodge a response.
Ms Reynolds said: "SOCC Hampshire feel sure that this figure demonstrates how inaccessible and complicated it was to understand and complete."
The council said the consultation had been extended and additional explanatory notes provided.