Christ the King College students oppose free travel plans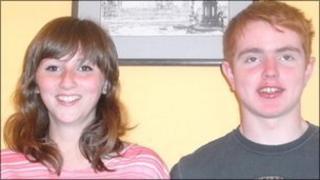 Two 15-year-old students have written an open letter opposing council plans to scrap free travel for their Isle of Wight faith school.
Melissa Carroll and Jonny Whitehouse argue that the changes would be blatant discrimination against students at Christ the King College.
In the first day of the letter being published online, it attracted 65 signatories and over 1,250 views.
The council said it was pleased the students were making their views known.
'Clearly rigged'
It is consulting about ending its blanket subsidy of free travel to Christ the King College.
Melissa, from Ryde, and Jonny, from Totland, wrote: "Such a change to the current travel arrangements would be blatant discrimination against Christ the King students simply on the grounds of their Christian faith."
They said of the council's survey on the proposals: "It is clearly rigged because whilst it gives three options for the withdrawal of free bus travel, it gives no option to vote for keeping the current arrangements."
The letter added: "The move would also make a mockery of the council's claim that we are an "Eco Island" because forcing so many students off the free buses would lead to an increase in car and motorcycle journeys."
Last week the school's chair of governors David Lisseter asked the council to halt the review "without delay" due to legal issues.
The leader of Isle of Wight Council, Councillor David Pugh, said: "The council is proposing to remove a transport subsidy for those attending faith schools to ensure that pupils on the Isle of Wight are treated equally, regardless of their religion or belief.
"We are pleased that students are taking the opportunity to make known their views.
"The consultation runs until 4 July, providing those with an interest ample time to make their views known in person, in writing or online."