Cowes RNLI rescue ocean racer near Stanswood Bay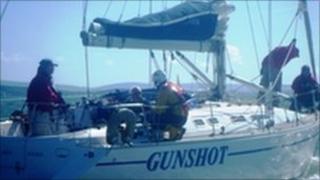 A small yellow buoy managed to bring an ocean racer to a halt, requiring the Cowes RNLI lifeboat to rescue it.
The five people on board The Gunshot, a 37 foot (11m) boat, called out the lifeboat to Bourne Gap, near Hampshire's Stanswood Bay, on Saturday.
A rope attached to the buoy had become caught on the ocean racer's propeller or rudder and it had to be towed free.
The three men on the lifeboat retrieved the buoy's remains and escorted the Gunshot to Beaulieu River.
The boat was not damaged and continued its journey from Chichester to Beaulieu.