Southampton City Council parking wardens to strike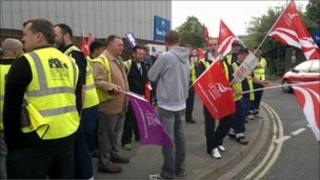 Forty Southampton parking wardens are to go on a seven-day strike next week in a bid to stop proposed pay cuts of up to 5.5%.
Workers from Unite and Unison voted in favour of action earlier this month.
About 100 refuse collectors began a five-day strike this week as part of the "rolling" industrial action by the city council workers.
The unions said their members in the parking operations section would begin their strike on Tuesday morning.
They include traffic wardens, maintenance engineers and cash collectors.
The Local Government Association said the action in Southampton was the first walk-out involving a whole council in England since the government's spending review.
Offered to meet
The Conservative-run city council said the alternative to pay cuts was to lose another 400 staff on top of 285.
A Unison spokesman said: "During the strike there will be no parking enforcement or repair of failing ticket machines.
"The city council will lose thousands from the non-issuing of parking tickets and the non-payment of parking fees."
Since the strike by refuse workers began on Monday, the council said it had offered to meet with the unions and ACAS to attempt to resolve the dispute.
The unions said industrial action would continue until a settlement was negotiated.
They said 2,400 members were also taking part in action "short of a strike", such as refusing to use private cars for council work.
The action could also affect street cleaning and care services.
In February, councillors finalised budget cuts of £25m and said all workers earning more than £17,500, which is 65% of staff, would have their pay cut by reducing working hours.
The council, which employs about 6,600 staff, has been accused by unions of "blackmailing" staff into accepting the pay cuts or the extra job losses.
Council leader Royston Smith previously said he understood that "many people are unhappy about the proposals" but the alternative was to lose another 400 jobs.
Unite said it had balloted 692 members working for the council and they had voted 51% in favour of strike action and 85% in favour of industrial action short of strike action. The turn-out was 42%.
Unison balloted 1,800 workers and they voted 56.5% in favour of strike action. Eight hundred school-based Unison members were not included in the ballot.