Queen police wheel-clamp charge in Portsmouth denied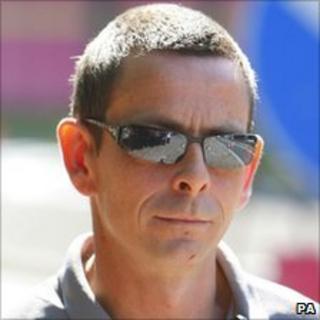 A man who wheel-clamped an unmarked car as officers carried out security duties during a visit by the Queen has denied obstructing the police.
The Queen made a surprise visit to Gunwharf Quays in Portsmouth on 26 May for a private lunch on a luxury yacht.
The officers were allegedly sitting in their cars at the retail complex when their vehicles were targeted.
Gareth Andrews, 37, from Fareham, denied wilfully obstructing a police constable in the execution of his duty.
Mr Andrews, of Privett Road, also denied contravening the Private Security Industry Act by not displaying the appropriate licensing badge.
'Grabbed earpiece'
He was released on unconditional bail to stand trial at Portsmouth Magistrates' Court on 19 August.
Bill Charlton, defending, told the court: "There was an initial exchange between my client and the officer, he said the officer declined to show him any kind of identification.
"As he was on the phone to his superior, the officer grabbed his earpiece, produced his warrant card and arrested him."
During the Queen's unannounced visit she had lunch on board the 245ft (75m) super yacht Leander, owned by NCP car park millionaire Sir Donald Gosling.
Shoppers were taken by surprise when they heard she was near the Gunwharf Quays shopping complex, which she visited in 2002 as part of her Golden Jubilee Tour.
The Queen had arrived in Portsmouth by helicopter, having attended a dinner the evening before hosted by US President Barack Obama at the end of his state visit to the UK.