New Forest heath fire prompts warning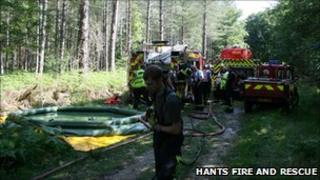 A heath fire in the New Forest has been tackled by more than 40 firefighters.
Hampshire Fire and Rescue was called to the Pignal Enclosure near Brockenhurst just after 0800 BST where two hectares (five acres) of undergrowth was alight.
The cause of the fire is unknown and a joint fire and police investigation is under way.
Prevention manager Steve Trevethick said: "With an exceedingly dry spring, a lot of our beautiful countryside is very dry and very susceptible to fire.
"[Heath fires] can have a major consequence for a local community, tourism and local and regional infrastructure," he added.