Isle of Wight Foodbank volunteers start collections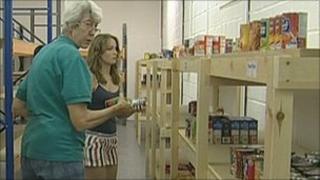 A volunteer-run project to provide basic food items to people in economic difficulties has started working on the Isle of Wight.
Foodbanks already operate in many cities but organisers say this will be one of the largest.
Co-ordinator Hannah King said: "We're working really hard as demand on the island is really great."
The group is appealing for non-perishable items such as UHT milk, tinned food, cereals and teabags.
The island has one of the highest rates of unemployment in the south of England and the Foodbank aims to provide three days of emergency supplies to people who have no money to buy food.
'Nothing left'
Ms King said: "It is food donated by the public for people who really have in nothing left in their cupboard."
"It's very difficult to cry out for help, to put your hand up and say 'I need help'," she added.
The Foodbank is run by 50 volunteers and already has collection points at churches and other sites around the island.
Donated food is brought to a central warehouse in Cowes where it is sorted before being sent to distribution centres around the island.
Ms King said more than half of shoppers made donations when the group held its first public collection at a supermarket in Cowes on Saturday.
"On the Isle of Wight, people are willing to give if they know people on the island are benefiting," she said.
People will be able to claim food from the centres if they have been given vouchers by doctors or health visitors. The volunteers are also trained to provide advice and help for anyone who needs to use the service.
Manager Charlie Hancock said: "With more and more redundancies and more people losing their income, or having delays in benefits payment, people are just falling through the net of care."
The island organisation is part of a national Foodbank network set up by Christian charity, the Trussell Trust.