Old Gaffers Festival yacht in Isle of Wight sea rescue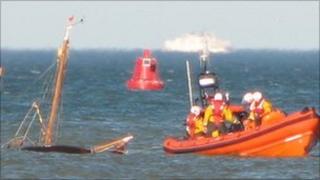 A man and woman were plucked from the sea off the Isle of Wight when their vintage 20ft (6m) yacht suddenly sank.
The couple were making their way to the annual Old Gaffers Festival at Yarmouth when their yacht started taking on water off Castle Point, East Cowes.
Their boat capsized but they were quickly picked up by a passing vessel and taken ashore where they underwent a medical check-up on Friday evening.
The yacht was brought to shore by a crew from Cowes RNLI.
The couple, who are not from the UK, also lost their passports despite a search by a lifeboat crewman.
They had been heading to the 15th annual festival which attracts ships with a particular style of gaff rigging, known as "Old Gaffers".