Southampton Itchen Bridge toll workers start strike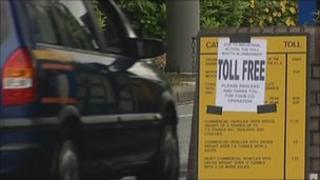 Toll collectors on Southampton's Itchen Bridge have started a week-long strike, the latest by council workers in a dispute over pay cuts.
It follows a walkout by the city council's parking wardens and binmen, who are protesting over a reduction in wages of up to 5.5%.
Conservative-led Southampton City Council said the cuts would protect 400 jobs and help make £25m of budget cuts.
In a separate strike, hospital cleaners will strike for a week from Monday.
The Itchen Bridge remains open and managers will work there during peak times although motorcycles are not being charged.
Binmen will begin another five-day strike on Wednesday, which will be followed by a seven-day walkout of about 60 street cleaners from Monday.
About 2,600 members of public sector unions Unite and Unison are undertaking action short of a strike, including a ban on overtime and working to rule.
'Understand frustration'
The council is due to meet with Acas, the government's arbitration service, next Thursday.
Councillor Jeremy Moulton, deputy leader of the council, said: "It is important to recognise that any compromise has to be set against the unfortunate reality that we have no choice but to make massive savings.
"In the meantime, I call on unions to end all industrial action immediately.
"Any union action that hits council income and incurs additional cost is only making this already very difficult situation worse. Less money means more pressure on jobs and services.
"By continuing this action unions are directly affecting the very people and services they should be trying to protect."
In February it finalised £25m budget cuts and said all workers earning more than £17,500, which is 65% of staff, would have their pay cut by reducing working hours.
The council employs about 6,600 staff.
Andy Straker, regional organiser for public sector union, Unison, said while public reaction to the strike had been good he understood the frustration residents had as rubbish began to pile up.
"I don't think we would be looking at meetings involving Acas unless this strike had been taken," he said.
"The binmen themselves, they live in Southampton and their bins aren't going to be empted either.
"We understand it's causing problems but from the reaction we have received from the picket line, people understand why the strike is important.
"It's not a strike for more pay, it's to stay on the same pay everyone else gets, the right money for the job."
In separate action, the unions claim Southampton General Hospital management had failed to pay cleaners agreed NHS rates, even though they received funding to do so by central government for the last five years.
The hospital trust said that was not true.