Isle of Wight crash pilots 'lost sight of each other'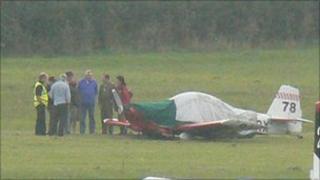 A mid-air collision between two planes during a race over the Isle of Wight happened because the pilots lost sight of each other, investigators found.
Michael Willis, 73, and his son James, 42, from London, died when their plane "pitched up" into another aircraft in the Merlin Trophy Air Race last year.
The plane the two men were flying - a Mooney M20J - broke up in flight and fell to the ground.
The other plane, a Vans RV-4, was badly damaged but was landed by the pilot.
Both occupants of the Vans RV-4 suffered minor injuries as the plane landed at Bembridge Airport, the venue for the Merlin Trophy Air Race.
Overtake 'from below'
Investigators from the Air Accidents Investigation Branch (AAIB) said both aircraft were closely matched on speed and after the last turn of the race, the Mooney began to overtake the RV-4 from a position below it, shortly after which the two collided.
The investigation retraced each pilot's ability to see the other aircraft during the final moments before the collision.
The results indicated the "RV-4 would not have been visible from the Mooney for 39 seconds before the collision".
The AAIB report concluded: "The accident occurred because the pilots of both aircraft lost sight of each other.
"When the Mooney was in the blind spot of the RV-4, and neither pilot could see the other aircraft, the Mooney pitched up into the RV-4 and a mid-air collision occurred."
Michael Willis, a retired pilot, had once saved the lives of more than 100 passengers when he landed a plane after it was damaged in bad weather in the 1970s, his family said after his death.
As a result of the accident in which he died, the Civil Aviation Authority and Royal Aero Club Records, Racing and Rally Association are reviewing air race procedures and the risk air racing poses to third parties.