Shelley Jory-Leigh makes powerboat return after crashes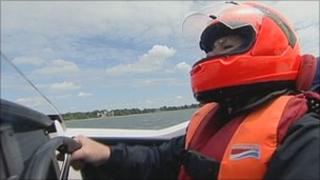 Former powerboat world champion Shelley Jory-Leigh is preparing for her first race since two serious crashes in 2010.
Ms Jory-Leigh, 40, of Sarisbury Green, Hampshire had considered giving up the sport after suffering head injuries in an accident off Sardinia.
However, she said: "It's been my life for 15 years and I can't actually live without it."
She intends to take part in a race in Jersey on Saturday, in a smaller boat than she previously used.
Ms Jory-Leigh suffered head injuries and a broken nose and her co-driver Patrick Huybreghts head injuries and a dislocated shoulder while training for a Grand Prix race in Sardinia, in July 2010.
'Very unsure'
She had only just recovered from an accident in which lost control of her boat during the final of the Malta Grand Prix of the Sea in Valletta on 13 June.
Ms Jory-Leigh admitted she was "very nervous and very unsure" about a return to competitive racing.
She said: "I just missed the buzz and the adrenalin of it all. I went shopping like normal people do and thought, 'I can't do this'."
Competing in the new P1 Superstocks series means she will be driving a smaller, less powerful boat.
All competitors drive the same type of powerboat which travel at speeds of up to 70mph (112kph) rather than the 120mph (195kph) boats she drove last season.
It also means she will be competing in Britain, rather than racing at venues around the world as she did previously.
The apparent step down in scale is something which concerned her at first.
"To be honest, my sport nearly killed me last year. When I chose to come back I thought, 'where am I going to have the fun?," she said.