Evacuated Southampton flats raided after fire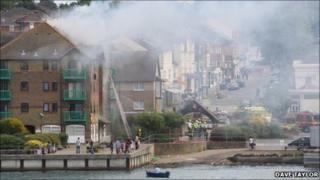 A block of flats in Southampton has been targeted by burglars after residents were forced to leave following a large fire.
An elderly man was rescued from a balcony after the fire broke out at Spitfire Court on Saturday.
Residents were forced to leave but many who have since visited their properties have found possessions missing.
At least eight of the 14 flats have been targeted since Sunday with items including jewellery and TVs taken.
It is believed the fire was sparked by an electrical fault.
'Bad enough time'
Officers said the burglars had come back on more than one occasion to raid the flats.
Det Sgt Will Whale said: "These burglars have taken advantage of the fact the residents have been made homeless by the fire... to callously burgle their homes.
"It's a bad enough time for the residents without this happening too.
"We want to catch those responsible as soon as possible. As we know they have come back on more than one occasion, we are sure someone will have seen them."