Isle of Wight Festival folding chair ban sparks anger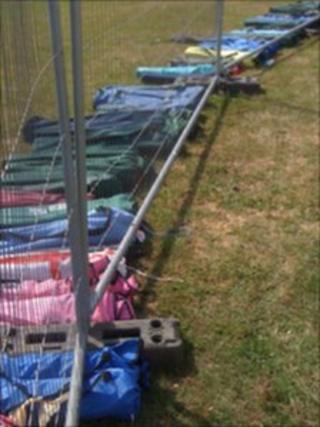 Visitors to the Isle of Wight festival have said they are "furious" after being prevented from bringing foldaway chairs on to the site.
About 100 people were told they had to leave their seats at the entrance to the site at Seaclose Park in Newport.
Among them, Clive Woodford from East Cowes said he needed to sit for medical reasons and there was no prior notification of chairs being banned.
The organisers confirmed chairs were not allowed in but declined to comment.
Mr Woodford said: "I'm absolutely furious. It's 175 quid down the drain. [The organisers] need to treat the public with respect."
Other festival goers said they had brought chairs in previous years without a problem.
Mr Woodford's wife said she was told it was a "healthy and safety" issue.
Seventy thousand people are attending the annual festival with Kaiser Chiefs, Kings of Leon and Foo Fighters among the headline acts.