Dogs get swimming access on the Itchen Navigation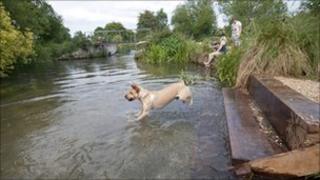 Dedicated access points for dogs have been installed on the Itchen Navigation to help prevent disturbance to wildlife along the waterway.
Dogs getting in and out of the water have trampled vegetation, eroded the bank and disturbed wildlife, a wildlife trust says.
The Hampshire and Isle of Wight Wildlife Trust has put in two "dog dips" along a 10.5 mile section.
The swimming points have been installed in Shawford and near Allbrook.
The trust is asking dog owners to encourage their pets to use the access steps into the water.
'Dog dips'
Ali Morse, Itchen Navigation project manager for the Hampshire & Isle of Wight Wildlife Trust, said: "We hope the dog dips will reduce bank erosion and make the Navigation an even better place for wildlife."
The Itchen Navigation was created in 1665 as a waterway that commercial barges could pass through.
It is a noted area for wildlife, including water vole, otter, salmon and kingfisher.
The trust is leading a five year project to improve the wildlife along the Itchen Navigation between Winchester and Southampton.
The Itchen Navigation Heritage Trail Project is funded by the Heritage Lottery Fund, the Environment Agency and Natural England.
The project has recently reached the semi-finals of the National Lottery Awards.