Bishop's Waltham events 'forced out' of palace ruins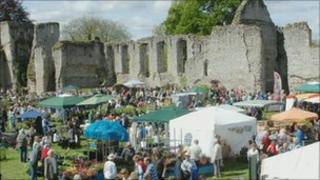 Arts and community groups say they have been priced out of using a Hampshire historic venue for fundraising events.
Groups which held events in Bishop's Waltham medieval palace ruins say English Heritage has raised the charges from £150 to £1,500 in seven years.
English Heritage said funding cuts had led to "difficult days" and it needed to cover its own costs.
The town's carnival has already relocated to a sports field following the increase in charges.
Event organisers say the enclosed open spaces around the remains of the palace walls were ideal for public events.
'Very disappointed'
John Edwards, of the Rotary Club, said: "The prices came from a very low level - and we understood that.
"But then they increased exponentially and significantly and that led us to reflect what we were doing and what we were about.
Joan Ferrer has decided to look for an alternative venue for the village's annual garden fair which she organises.
She said: "We're very, very disappointed. We're left feeling we've been forced out and it's not of our own volition."
An English Heritage spokesman said: "In the past we have not always charged the full costs of hosting community events at the properties in our care.
"However these are difficult days for heritage, especially given the 32% reduction to our government grant, so while we continue to welcome community events, we ask that at the very least the organisers cover the cost to us of hosting their event."