Hampshire County Council Sure Start plans scrutinised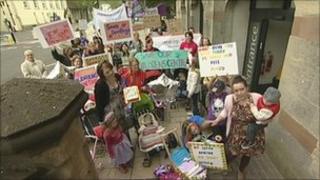 Councillors have said a decision to cut £6m from Hampshire's Sure Start children's centres should stand.
Councillors met earlier to scrutinise the plan to re-organise the centres despite protests from parents.
The centres offer services to young families, including helping parents find work, childcare and support.
The county council wants to change their management structure to save £6m. The committee could have forced the authority to review the decision.
Under the agreed plans, all 81 centres will remain open but will not have individual managers.
'Necessary' changes
The council has agreed to create 15 management "hubs" that will be responsible for the centres.
The original plan proposed eight "hubs", but after protests councillors almost doubled the figure in a bid to help maintain local links.
More than 1,200 people participated in the consultation over changes which the council had said were "necessary".
Around 57% of responses came from parents and carers who use Hampshire children's centres.
However, the council data revealed a total of 13,276 people viewed the online document, indicating most did not then go on to lodge a response.
The county council intends to save about £20m from children's services as a whole.