Southampton street cleaners go back to work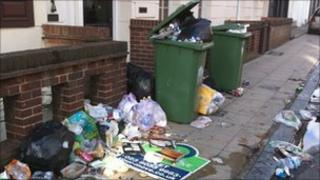 Street cleaners across Southampton have gone back to work after striking over council cuts to their pay and working conditions.
Parking attendants and Itchen Bridge toll collectors also returned although binmen are still on strike until Wednesday.
Unions are unhappy that members face a pay cut however the council said it was the only way to save 400 jobs.
In unrelated action, hospital cleaners in Southampton also returned to work.
They ended a week-long strike at 0600 BST in a long-running dispute over back-dated sick pay for contract workers.
Meanwhile talks are set to resume between Southampton council and public sector unions Unison and Unite on Wednesday with the government's conciliation service Acas.
'Step too far'
The strike is in response to a plan by the Conservative-led authority to impose new contracts on the city's 4,300 council employees, which they have been told they have to accept by 11 July.
Workers face dismissal notices if they do not accept the reduced terms.
Talks between the two parties lasting nine hours ended without an agreement on Friday.
Steve Brazier, regional organiser with Unison, said he was "disappointed" by last week's discussions.
"The council refused to withdraw the redundancy notice to all staff," he said.
"There's an offer on the table from both Unison and Unite to withdraw strike action if the employers withdraw dismissal notices.
"It's a step too far, there's no guarantee on the future, these aren't high paid workers, they can't make ends meet on current pay."
Southampton council said it offered to clear its diary to continue talks this week with unions to end strike action.
In February, councillors finalised budget cuts of £25m and said all workers earning more than £17,500, which is 65% of staff, would have their pay cut by reducing working hours.
It claimed the alternative to pay cuts was to lose another 400 staff on top of the 285 already planned.