Portsmouth's Spinnaker Tower glass lift may be removed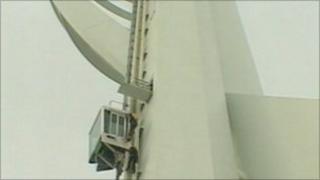 A troubled glass lift on Portsmouth's £36m Spinnaker Tower landmark could be removed by the council.
The external lift has been broken since the 558ft (179m) Hampshire attraction opened in 2005 after a five-year delay.
Cabinet members will discuss next month whether to remove it, replace it or leave it in its present state.
Leader of the Liberal Democrat-led authority Gerald Vernon Jackson said members would ensure the "best value" for the people of Portsmouth.
He admitted replacing the lift would prove costly, and confirmed no more attempts would be made to try to fix it.
The tower, which also has an internal lift, is the UK's tallest public building outside London.