Hamble travellers' camp raided over slavery concerns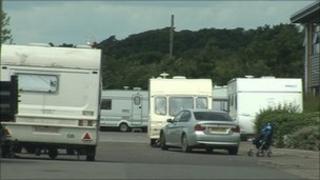 Three people have been arrested on suspicion of slavery offences during a raid on a travellers' camp.
Caravans and vehicles at the site, in Hamble, Hampshire, were searched at 0530 BST by about 120 officers.
An Oxfordshire man and woman, aged 26 and 52, and a 19-year-old Wiltshire man, were arrested at the scene.
Det Ch Insp Kath Barnes, of Hampshire Police, said the raid was carried out as a response to concerns raised from the community.
Specialist teams using sniffer dogs were called to the site, in Ensign Way, to execute a number of warrants during the early-morning raid.
The three were arrested on suspicion of offences under Section 71 of the Coroners and Justice Act 2009.
It creates an offence of holding someone in slavery or servitude, or requiring a person to perform forced or compulsory labour.
A fourth person, a 25-year-old man from Bedfordshire, was also arrested for public order offences.