Round the Island Race: Sailors rescued in rough conditions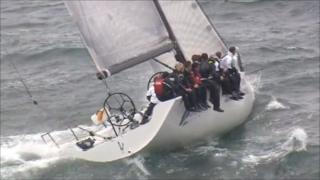 Several people were injured and rescue teams attended up to 65 callouts as rough conditions battered yachts in the Round the Island Race.
The event, celebrating its 80th year, saw 1,908 vessels take part in a bid to sail the 50 nautical-mile course around the Isle of Wight.
But many teams were forced to retire early due to tough sailing conditions.
Triple Olympic-winning sailor Ben Ainslie, who completed the race, said conditions were "pretty extreme".
The legendary yacht, Gipsy Moth VI, was also damaged.
Capsized catamaran
HM Coastguard and volunteer RNLI crews were called a number of rescues due to strong winds.
An unconscious man was airlifted to safety by helicopter near the Needles Lighthouse and two people had to be rescued by the RNLI after their catamaran capsized.
Record breaking yachtswoman Dame Ellen MacArthur was just one of hundreds who took the decision to turn back after it became too rough.
She was with a team of six boats from her Ellen MacArthur Cancer Trust, which were carrying 30 young people recovering from cancer or leukaemia.
But Dame Ellen described the experience as "incredible".
"I think there was some disappointment on our boat but at the same time our guys absolutely loved it," she told the BBC.
"We did have someone who was a little bit sea sick and that's life but I think we did the right thing to turn around and come back.
"The atmosphere on our boat was amazing, they loved being part of it, they were so positive and happy, whooping when we went over the waves, waving to the other boats, it was just incredible."
The winner of the Gold Roman Bowl for first overall place was won by Jo Hutchinson and Nick Rogers on a Contessa 26 Sundowner.
Triple Olympic-winning sailor Ben Ainslie, who managed to complete the course, said: "It was pretty extreme conditions, it was certainly the roughest, windiest Round the Island Race I have ever been involved with.
"We definitely didn't win anything... but in those conditions it's more about getting round the course, not hurting anyone and keeping the boat in one piece."
The island is also hosting the 14th Island Games, which was opened by Lord Coe.
About 3,500 competitors from 24 islands across the world are taking part in the biennial event over six days.