Eastleigh's strawberry story gets Heritage Lottery Fund grant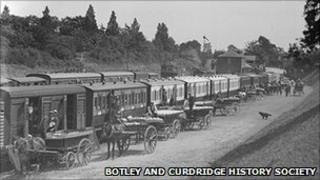 Hampshire's strawberry farming history will be turned into a community play following a £10,000 grant from the Heritage Lottery Fund (HLF).
Cultivation in Eastleigh was at its peak in the mid-1800s with more than 20,000 tonnes of berries loaded up at Botley and Swanwick stations each day.
Known as 'Strawberry Specials', the trains were bound for Covent Garden and top hotels in London.
The play will be performed at The Berry Theatre, Hedge End, next March.
The new £4.7m state-of-the-art theatre has been named 'Berry' in recognition of the local agricultural heritage, as it is built on land that used to be a fruit farm.
The project, led by a professional creative team from the new theatre, will involve local schools.
It will look at the human stories of the time when strawberry cultivation was at its peak.
Sarah Brigham, director of The Berry Theatre, said: "This project will use drama to bring to life and celebrate a unique and hidden piece of local history and provide an invaluable educational resource for our local schools."
'Picking holidays'
Every day during the harvesting season from May through to mid July, pickers would be given four 3lb baskets to fill and school children were even given "picking holidays" to help with the work.
In 1888, Swanwick station was built especially to export the high quality strawberries.
The station had extra long platforms to speed up the loading process and during the harvest between the end of May through to mid-July it was one of the busiest in the country.
At the height of the strawberry boom, train stations along the Strawberry Coast would have had queues of strawberry growers, horses and carts of up to a mile long waiting to get their fruits on the train.
In the late 1960s the South's strawberry fields had to fight for survival as growers struggled to compete with imported berries which arrived earlier in the year and were half the price.
Many growers went out of business and by the 1980s much of the area previously covered by the vast strawberry fields was developed for housing.