'Eco Ernie' rounds up Southampton student's rubbish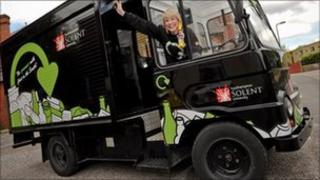 A recycling project to combat the waste left behind by Southampton's students has made its rounds.
The milk float, known as Eco Ernie, tours traditional student areas of the city, like Polygon, at the end of the summer term.
The project began three years ago after complaints from residents about the mess left by students when they move.
Items collected have included a life-size toy sheep and a pink, inflatable chair.
Each year, about three tonnes of clothes and textiles and a tonne of electrical items are collected.
Benny Hill connection
The milk float, named after Southampton-born Benny Hill's chart-topping song Ernie (The Fastest Milkman in the West), also collected more than 50 duvets which will become bedding for horses.
The initiative, run by Southampton Solent University, provides bags for students in privately-rented accommodation in the city towards the end of their academic year.
The bags are then put out for collection and taken to a church hall to be sorted by an army of volunteers - the best material is then sold on to new students moving into the area, other items are either recycled or scrapped.
Polygon resident and Ernie volunteer, 78-year-old Pat Middlewick, said: "Student changeover used to be a misery for residents but it's turning into an enjoyable community event."
"We have a lovely time sorting through the items, the project is well worth it and you'd be surprised at what we find. I love it."
Recycling awards
Set up by graduate, Louise Drake who also came up with the novel mode of transport to collect the goods, which has recently been short listed for the 2011 National Recycling Awards.
She said: "He's environmentally friendly and quirky and everybody wants to have a little drive on the float."
"It's a very positive way that students can learn business skills, project and time management skills that they can use as future graduates."
Local charity, Hampshire & Isle of Wight Air Ambulance benefit from Ernie's collections.
Last year the project donated over three tonnes of textiles to the service. It was the largest single textile donation the charity has ever received.