Tudor House Museum in Southampton saved by restoration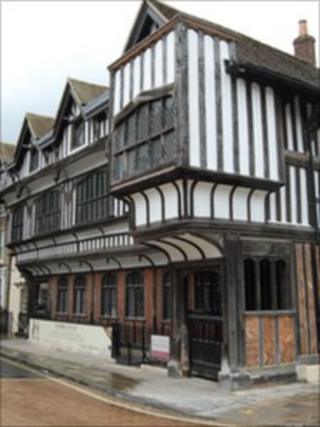 With its Tudor banqueting hall, Georgian drawing room and Victorian kitchens, Southampton's Tudor House Museum has five centuries of life under one roof.
The Grade I listed building in Bugle Street is reopening on Saturday after nine years of restoration work.
The creaking wooden floor, so warped it induces a slight feeling of seasickness when walked on, is just one of the idiosyncrasies kept in the restoration process.
The latest audio-video technology has been installed in the 15th Century house to display its unique contents.
The house was originally constructed in the 1490s near Southampton's prosperous port by the builder of the Mary Rose, John Dawtry.
It was later saved from slum clearance by forward-thinking Victorian philanthropist William Spranger.
He bought the building, restored it and sold it to the council as a museum and just about every Southampton schoolchild has visited it since.
Many of the original exhibits and curios are back on display - from a stuffed puppy to a World War I hot cross bun.
It is thought the house survived the World War II blitz because German pilots wanted to preserve nearby St Michael's church as a navigation aid.
However by the 1990s, time was taking its toll and the house was in a perilous condition.
Surveys showed it was slipping into neighbouring Blue Anchor Lane. But carrying out major work to a unique and precious relic was fraught with difficulty.
Project manager Dan Matthews said: "The main thing was the complexity - so many things had been done to it over 500 years."
The house structure was pinned to a 15-tonne concrete pillar and basic services, including a state-of-the-art fire sprinkler system, installed.
The work was funded by a Heritage Lottery Fund grant of £3.5m, as well as £1.8m from Southampton City Council.
'Star attraction'
Mr Matthews said: "It's got so much character and eccentricity, but the flipside is everything from changing a fuse to fixing a window is never a simple task.
"There's not a right angle in the place, so even hanging a picture never looks straight.
"The house is now singing. It looks wonderful and visitors will be amazed. This has given it life for another 100 years."
Today there are touch screens to highlight graffiti from around 1570 uncovered on a wall, and 360-degree virtual displays showing how rooms would have looked in different eras.
Designer Mark Magidson, of Exhibition Plus, said: "It was like peeling an onion of different layers of the various parallel histories of the building,
"The building itself is the star attraction," he added.
Southampton City Council's Karen Wardley said the house would be a major tourist attraction for the city - particularly for visitors from cruise ships.
She said: "We want to help visitors learn the history of the building and relate it to this area of Southampton and the people who lived and worked here over the ages.
"Everything we have done is in keeping with the building and we haven't lost its character," she said.