HMS Ark Royal aircraft carrier bidding closes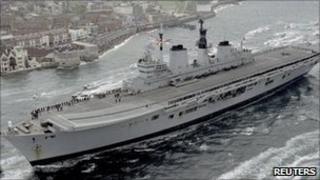 Bidding has closed in the sale of the Royal Navy's former flagship aircraft carrier HMS Ark Royal.
Proposals include selling the ship for scrap metal, transforming it into a casino and sinking it for a dive wreck.
Due to high levels of interest it will take "a couple of months" to review the bids, the Ministry of Defence said.
The ship was put up for auction in March but the original deadline had to be extended because of the level of interest from potential buyers.
Other possibilities include turning it into a heliport in London or a base for special forces during next year's Olympic Games.
The Ark Royal, currently at Portsmouth Naval Base in Hampshire, was advertised on the MoD auction website edisposals.com.
'Robust business case'
Spokesman Tim Lewis said: "A lot of people have come forward with an interest in the ship and we must ensure we get the best return for the taxpayer.
"It will take anything up to a couple of months to sort the bids out and come to some sort of a conclusion."
Mr Lewis declined to reveal the total number of bids received and said investors must also present a robust business case.
Ark Royal's sister ship - HMS Invincible - was towed to a scrapyard in Turkey after being sold on the same website.
Ark Royal's operations have included leading the UK's naval forces during the invasion of Iraq.
The current ship is the fifth vessel to carry the name - the first saw battle in 1588 against the Spanish Armada.
It was decommissioned after 25 years in service as part of the government's defence budget review.