HMS Illustrious returns to Portsmouth after £40m upgrade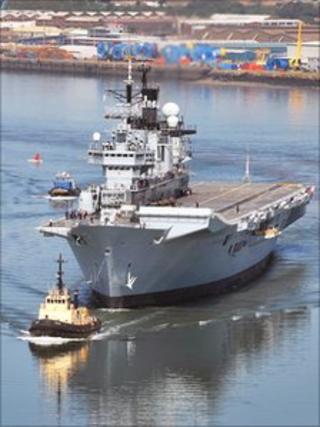 HMS Illustrious has returned to its home port of Portsmouth following a £40m refit in Scotland.
The ship, which used to carry planes, underwent modifications so it can carry 20 helicopters and 600 commandos.
The 22,000-tonne vessel, known as Lusty, also had 540,000 litres of paint applied to it, including a fuel-efficient outer hull coating.
About 300 family members of the crew lined the dock at Portsmouth naval base to welcome the ship home.
HMS Illustrious returned after a 16-month re-fit in Rosyth, Fife, which included its flight deck being converted into a helicopter platform.
Its communications kit and crew's living space were also revamped and a new anti-torpedo system was fitted.
Commanding officer Captain Jerry Kyd said: "It is a great honour and tremendously exciting to bring this famous carrier, HMS Illustrious, back to her home port of Portsmouth.
"My magnificent crew have worked for many months away from family and friends, some for 18 months, and our return today is testament to their characteristic professionalism and commitment.
"We formally rejoin the fleet at the end of this month and I know I speak for all the men and women in Lusty when I say that we are looking forward greatly to meeting whatever challenges the government sets us in the coming years."