Pilgrimage for arrival of Isle of Wight Christianity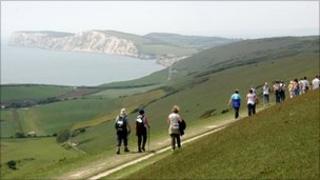 The 1,350th anniversary of the arrival of Christianity on the Isle of Wight is being marked with a series of events.
Churchgoers are set to take part in a three-day pilgrimage across the island.
There will also be a re-enactment of the arrival of a priest, Eoppa, who is credited with bringing the first gospels from Sussex in 661 AD.
Canon Michael Weaver said: "By marking the coming of Christianity 1,350 years ago, I hope we can also show how relevant that faith still is today."
Pagan gods
The island was one of the last places in the British Isles for Christianity to take hold.
From records in Anglo-Saxon chronicles, Eoppa is thought to have landed at St Helens on the eastern side of the island at a time when the population worshipped pagan gods.
Canon Weaver said: "The island was a place of fear and dread, so coming with the gospel must have been very challenging."
Starting on 16 July, services will be held along the pilgrimage route, including an an open-air Roman Catholic Mass and an "act of repentance for past violence and division" held in the centre of Newport.