City's children's social workers' pay to be restored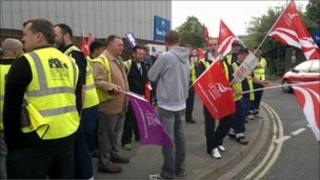 Children's social workers in Southampton will be paid an extra £1,400 so earnings lost as a result of a council pay cut will be restored.
It comes as a further 250 council workers including carpenters and plumbers are due to strike over pay cuts and job losses on Monday.
They will join hundreds of other staff including refuse workers and librarians striking over a 4.5 per cent pay cut.
Southampton City Council said it was committed to keeping children safe.
The children's services social workers, who earn between £26,000 and £34,000, are having their pay cut by 4.5% on 11 July in line with the rest of the workforce.
But they will receive a "market supplement" of £1,400 per year which will restore the money being lost.
The unions say the proposed pay rise has created anger among its members and will inflame what is already a "very difficult situation".
'Blatantly unfair'
Andy Straker, Unison regional organiser, said: "While we welcome the fact that one group of council workers will not in effect be having a formal pay cut, the council's actions are still unacceptable.
"The care staff in children's services work as a team and it is blatantly unfair to protect social workers' pay while cutting the pay of the remaining staff.
"It is also unclear how the council has suddenly produced the money for the 'market supplements' when the council's funding gap has now allegedly reached £75 million over four years," he added.
The council said the extra money was a result of a review of how much it paid its children's social worker staff.
Councillor Royston Smith, leader of Southampton City Council, said: "What I say to the unions and to Labour, if they think this is unfair to other staff, we will keep our children safe now, tomorrow, next week and into the future - if they don't think that's not an admirable position, they're in the wrong job."
The council staff due to take industrial action on Monday also include street cleaners, toll collectors, social care supervisors, vehicle mechanics, bricklayers, electricians and gas fitters as well as administration and supervisors.
The Tory-led council says the pay cuts will save 400 jobs but Unite and Unison say staff are being "blackmailed".
The unions have also accused the council of cancelling talks to resolve the dispute.
In February, Southampton City Council finalised budget cuts of £25m and said all workers earning more than £17,500 - 65% of staff - would have their pay cut.
During recent talks with unions, the council had made an offer that anyone earning £22,000 or less would no longer have their pay cut - but the negotiations broke down.