Unions in legal action over Southampton council pay cuts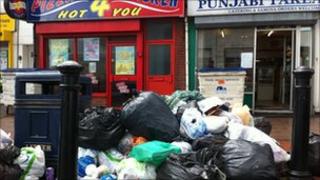 Unions have begun legal action after more than 99% of Southampton City Council workers signed new contracts forcing many to take a pay cut.
Unite and Unison said they had begun lodging "mass legal claims for unfair dismissal".
Meanwhile a strike by refuse collectors, street cleaners, parking wardens, librarians and many other employees continues.
The Tory-led council said the cuts were necessary and would save 400 jobs.
A council spokeswoman said 10 staff had chosen not to sign the new contracts so would lose their jobs.
From the 4,627 employees who had received letters, another 23 remained outstanding due to sickness, holiday or paperwork still being processed, she added.
Staff had been given until Monday to agree to their new pay terms and conditions, which sees those earning more than £17,500 a year taking a pay cut of between 2% and 5.5%.
'Nothing has changed'
Steve Brazier, Unison regional manager, said: "The issues haven't changed. We think it's illegal and we think it's unfair."
He said together with the Unite union, Unison was starting to collate claims for unfair dismissal from workers who had been "forced" to give up their previous contracts to sign the new ones.
"The Tory council is claiming victory when they know full well that nothing has changed, except their carrying out the unfair dismissal of their workforce.
"The council claims their pay cuts would save 400 jobs. Their own figures released yesterday in confidential papers from the chief executive show the actual number that could be saved would not exceed 100 and that up to 1,224 jobs were now potentially at risk."
The authority's leader, Councillor Royston Smith, said the council was not planning further cuts and that the figures in the report were simply used to illustrate how much the council would need to save.
Agency refuse staff
He added: "I've been speaking to our lawyers throughout and I've been told from the start that this is legal if you go through the process and the consultation.
"It may not have been the way people would have wanted to do it - it's not the way I would have wanted to do it.
"I wanted an agreement with the unions - they refused to negotiate and we never got that agreement.
"But I've been told that it's legal and that's why we'll carry on."
The council also said it had 10 refuse trucks with agency staff working to collect "as many bins in the city as possible" this week, as many residents had not had refuse collected since 23 May due to the action.
Hundreds of workers are expected to march through the city on Wednesday and to stage a protest outside a meeting of the full council.
The unions are also pursuing separate legal action on behalf of all union members claiming there was a lack of consultation over the council's pay cut plans.
A preliminary employment tribunal hearing will be held on 5 August and the unions say they could win up to 90 days pay for all staff if they are successful.