Unions threaten further council strikes in Southampton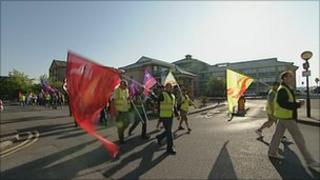 Unions representing council workers in Southampton have given a week's notice of further strikes in the city.
Toll collectors, parking officers and street cleaners will take action on 25 July if talks over pay and conditions fail to reach a settlement this week.
Bin collectors were also added to the list of workers joining the walkout.
The council is looking at ways to mitigate the impact of the strike including contracting 10 bin lorries to collect household rubbish.
Refuse collectors have been working to rule as the council tries to deal with the backlog of rubbish. Some residents have not had their rubbish collected since 23 May.
'More misery'
A council spokeswoman said: "The binmen do exactly what it says in their contract and no more.
"They don't have to collect side waste, only what is in the wheelie bin which, as you can imagine, slows the process of clearing the backlog of waste down, which continues to cause disruption."
Royston Smith, leader of the council, said: "Our residents will be put through yet more misery. However I will not let this news deter the council from doing all it can to from bring an end to this dispute.
"We will continue to meet with unions to resolve this."
Unison and Unite were due to meet the council again on Tuesday and Wednesday to seek a negotiated settlement.
Steve Brazier, regional manager of Unison South East, said: "Unison members remain deeply unhappy and angry at the Tory councillors' decision to cut their pay, conditions and services to the people of Southampton.
"Should talks this week be unsuccessful, then further strike action is likely next week."
Hundreds of workers marched through the city last week in protest at the introduction of new contracts that have forced nearly all to take a pay cut.
More than 99% of the council workers signed new contracts on 11 July.
The Conservative-led authority says the move is necessary and will save 400 jobs in the long run.