Pair jailed over Southampton cyclist attack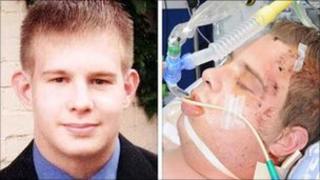 A man and a woman have been jailed for taking part in an attack in Southampton that left a cyclist with severe head injuries and brain damage.
David Baker, 24, was in coma for almost two weeks after he was attacked on Central Bridge on 8 June 2010.
Appearing at Southampton Crown Court, Stephanie Hill, 19, from Thornill, Southampton, was jailed for four years.
John Smith, 27, from Botley, was given an indeterminate sentence and told he must serve at least four years.
Mr Baker may never fully recover from his injuries. The judge described the attack as cowardly and unprovoked.
Blood on boots
The court heard that Mr Baker - described as a timid, non-violent person - was on his way home after visiting friends when he was attacked by a group of four people who were high on drink and drugs.
At the time roadworks were taking place on the bridge and pedestrians and cyclists were funnelled into a narrow walkway.
David Baker was pushed off his bike and repeatedly kicked in the head and face and a beer bottle was smashed on his head.
Ms Hill kicked Mr Baker in the head and had blood on her boots while Mr Smith, described as the main aggressor, had the victim's blood on his jeans and trainers, the court heard.
He also had previous convictions for violence.
As a result of the attack, Mr Baker can no longer run or cycle, and can only walk outside with the aid of a crutch.