Residents return following flat fire in Southampton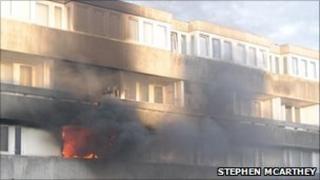 Residents have been allowed back into their homes following a fire in a block of flats in Southampton city centre.
Fire crews were called to Wyndham Court in Commercial Road at about 20:00 BST on Friday.
A total of 64 firefighters tackled the blaze which broke out in a fourth floor maisonette. The cause is not thought to be suspicious.
Three people were taken to hospital and two treated at the scene for the effects of breathing in smoke.
Hampshire Fire and Rescue's Kevin Oxlade said: "Crews worked extremely hard to contain the fire to within the flat of origin.
"The flats above and either side of where the incident took place received heat and smoke damage but this would no doubt have been a much more serious incident had it not been for their firefighting efforts."
At the height of the fire, black smoke could be see rising from the buildings high above the area around the nearby train station and the Mayflower Theatre.
Volunteers from the Red Cross helped residents who had been evacuated from their homes.
Roads around the block were closed, however residents in some parts of the building, which is built around a courtyard, were allowed to remain in their homes.