Man names Portsmouth lifeboat after wife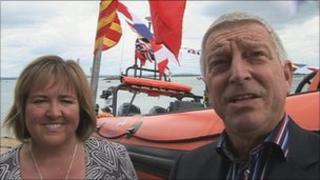 A man has named a lifeboat after his wife at a naming ceremony for the vessel in Hampshire.
Robert and Norma Thomas, from Portchester, Fareham, donated £150,000 to the RNLI to fund the Norma T.
The couple decided to donate the funds after selling their conservatory blinds business.
The Norma T, based at Portsmouth Lifeboat Station in Southsea, came into service in October 2010 and has so far been launched about 60 times.
Mr and Mrs Thomas said they regularly cruised the Solent and beyond in their boat, Roma.
'Winning situation'
Mr Thomas said: "We never dreamed that we would be able to one day fund a lifeboat, but when we became fortunate enough to be able to, I decided to name it after my wife, Norma.
"I never sail without her, so it seemed right and appropriate to name the lifeboat in her name."
After the naming ceremony, he said: "The fact that we were able to assist with the new boat for Portsmouth, we are as pleased about it as they are, so I think it's a winning situation all round.
"Seeing Norma's name on the side of the boat and hearing that she's been out there rescuing all these people on a regular basis is great - it's very exciting."
The Atlantic 85 lifeboat is the third generation of the RNLI's B-class lifeboat.
It can remain on service for three hours at full speed, and can be righted in the event of a capsize by activating a gas buoyancy bag.