Man killed in M27 motorway crash named as Steven Harris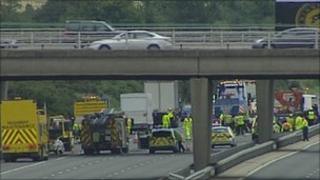 A man killed in an accident involving two vehicles and a maintenance truck on the M27 motorway near Southampton has been named as Steven William Harris.
The 53-year-old, from Southampton, died when his Jeep collided with a highways maintenance vehicle parked on the hard shoulder and an HGV on Friday morning.
A grass-cutting team was on the verge near junction two at Ower at the time of the crash. No-one else was injured.
Police have appealed for witnesses to contact them.