London 2012: One year to go for Hampshire businesses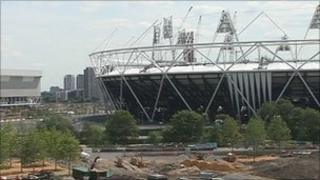 Businesses and tourist venues in Hampshire are hopeful of cashing in on next year's Olympic Games.
With its proximity to both London and sailing events at Weymouth, Hampshire is likely to see an influx of visitors.
Visit Britain estimates that tourism outside London will benefit to the tune of £0.62bn from the Games.
Hampshire County Council said the benefits "could last for many years" after the Games have finished.
During the Games there are plans for a '"Hampshire welcomes the world" music and arts event and big screens showing live action.
Website and social media advertising is being stepped up to promote the region's attractions to visitors travelling through or wanting to extend their stay in the UK after the Olympics.
A county council spokesperson said: "The main benefits to Hampshire are likely to be after the Games as a result of the higher profile that the UK receives."
'Executive jets'
Among the businesses already benefiting from the Games is Hilliers Nurseries, based near Romsey.
The company won the contract to provide more than 2,000 semi-mature trees for the Olympic Park and Olympic Village in what is thought will be the largest one-off tree planting of its kind in the capital.
The four to seven metre (13 to 22ft) trees are native species including ash, alder, willow, and lime.
The company beat competition from European growers to win the contract.
Chairman Robert Hillier said: "It is a privilege to be recognised for supplying great British trees to a great British project".
Located along the rail line linking London and the sailing events in Weymouth, Southampton Airport could be a key part of the Olympics travel preparations of spectators, media, VIPs, sponsors and competitors.
A spokesperson said: "Southampton Airport is an ideal base for VIPs and sponsors wishing to access the Games venues quickly.
"We anticipate that we will be welcoming increased levels of executive jets using our dedicated facilities."
"We believe we are likely to get extra passengers using Southampton Airport during the Olympic period.
She said the airport was already working closely with South West Trains to provide a "swift transfer to the Games venues" for passengers.