Langstone Harbour Saxon logboat in Portsmouth display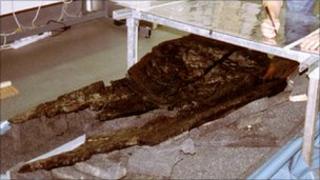 A 1,500-year-old logboat found buried in the mudflats of a harbour in Hampshire has gone on display.
The Saxon boat excavated from Langstone Harbour in 2003 can be seen in an exhibition at Portsmouth City Museum.
The hollowed out oak tree formed a wooden canoe, which was probably used by local people around 500 AD.
Radiocarbon dating sugests the canoe dates to somewhere between 400 and 640 AD, a period spanning late Roman times to early Saxon.
The Mary Rose Trust has spent seven years conserving the logboat, which was discovered in 2002 by local enthusiasts John Cross and Arthur Thomas Mack who were searching for prehistoric flint tools in the intertidal zone of the harbour.
Tool marks
The boat was only the second to be discovered in the Solent region and is currently the oldest watercraft remains from the area, Portsmouth City Council said.
Julie Satchell, head of research at Hampshire and Wight Trust for Maritime Archaeology, said: "The boat demonstrates the long history of seafaring and marine exploitation in and around the Solent.
"We hope that seeing its features up close, such as the tool marks where the tree has been hollowed out and peg holes to gauge the thickness during construction, will bring the remains to life and inspire and enthuse future generations about maritime heritage."
Researchers believe the area where the boat was found was used by the local population for marsh grazing, fowling or fishing.
The boat will be on display in a new gallery at the museum, which will also showcase a range of artefacts from the Portsmouth area, including Saxon jewellery and weaponry, prehistoric flint tools and a Bronze Age torc (neck ornament).
Chris Cockburn, RSPB warden, said: "While we manage Langstone Harbour primarily to protect the sensitive habitats and the birds that depend on them, we also value the archaeological importance of the site.
"The natural erosive processes acting on the saltmarsh and intertidal mud habitats can lead to artefacts, such as the logboat, being uncovered.
"These objects are at great risk of being lost unless they are quickly discovered, recorded and if necessary removed."