Southampton City Council social workers to strike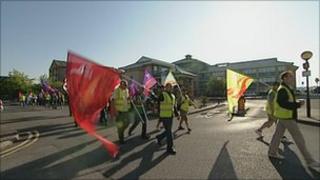 Social workers in Southampton are to strike in a continuing dispute with the city council over changes to pay and conditions, unions have announced.
Unison and Unite said more than 450 members working for the Children's and Adult Social Care departments were set to walk out on Wednesday 3 August.
Council leader Royston Smith said the strikes were "a step too far" and would put vulnerable people at risk.
The council is asking unions to make key services exempt from the action.
'Simply unacceptable'
Unions said the strike stemmed from the council's decision to pay £1,400 "market supplements" to a limited number of social care staff in compensation for a 5% pay cut implemented on 11 July.
A longer period of strike action is also planned from 4 August, details of which will be announced tomorrow, the unions said.
Mr Smith said: "What the unions are proposing is simply unacceptable.
"We have been talking to trade unions for months to try and end this dispute and for the past nine weeks we have been doing so with industrial action causing misery for our residents, and under the constant threat of more industrial action from the unions.
"This is not a constructive way to negotiate."
The move is the latest in a series of industrial action by Southampton City Council staff.
Signed new contracts
Toll collectors, parking officers, bin collectors, library staff and street cleaners have all been on strike during the past two months.
Staff are angry at the introduction of new contracts that have forced the majority of workers to take a pay cut.
More than 99% of the council workers signed the new contracts on 11 July.
The Conservative-led authority says the move is necessary and will save 400 jobs in the long run.
In February, councillors finalised budget cuts of £25m and said all workers earning more than £17,500, which is 65% of staff, would have their hours cut - resulting in a loss of pay.