Brides disappointed as Southampton wedding shop shuts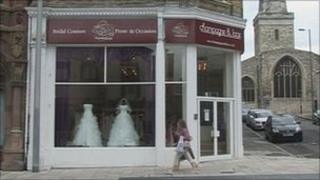 A Southampton wedding dress shop has gone out of business, leaving brides-to-be out of pocket and without their gowns.
Champagne and Lace Bridal Lounge in the High Street closed without notice with some customers' weddings just weeks away.
One bride, who had already paid most of the £1,800 cost of her dress, said she was "heartbroken".
The BBC tried to contact the Champagne and Lace shop but received no response.
Customer Katie Hill received a letter on Saturday telling her the shop was closed.
She said: "It didn't even have my name on the letter - it just said sorry for the inconvenience.
"I had paid £1,300 off of the dress - I had £500 to pay. I had just had my measurements taken and was expecting to have my first fitting at the end of the summer. It's heartbreaking.
"The letter just had a postal address in Manchester. Until I get a response from them I've got no idea whether I will get my money back from them. It's a scary time."
A note on the door of the shop read: "For your information, it is with regret that Champagne & Lace Ltd has closed for business for the forseeable future. No further appointments will be available. We are genuinely sorry for any inconvenience this may cause."
Julie Ely from Totton, whose daughter Sarah is getting married in 2012, said the shop's staff offered her an unfinished dress from their stock.
She said: "I think the girls seem to be making every effort to get the dresses out to the brides where they could."
It is the second bridal store on the site to have closed in as many years. Rena Zhang Couture closed in 2010.
Disappointed brides are now being offered a discount on gowns by a rival store in the city.