Mary Rose £2 coin floated on the Solent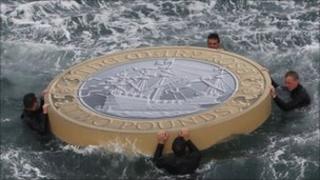 The 500th anniversary of the launch of the Mary Rose has been marked with a large replica coin being floated in the Solent.
A three-metre (10ft) replica of a Mary Rose £2 coin was positioned on the spot where Henry VIII's flagship sank in 1545.
The Royal Mint's limited edition coin will enter circulation later this year.
The mint's Shane Bissett said: "We hope it serves as a reminder of Britain's rich heritage as a maritime nation."
The coin was held in place by members of the Royal Navy Fleet Diving Squadron.
Lieutenant Commander Richard Watson said: "Not only does the Mary Rose play an important part in Britain's military history, but the story of this Tudor warship appeals to naval personnel and civilians alike."
The Mary Rose sank while leading an attack on a French invasion fleet and was raised from the sea bed in 1982.
The wreck has undergone 17 years of conservation treatment and is due to go on public display in 2012 when a dedicated museum will open in Portsmouth's Historic Dockyard.
To mark the anniversary, a silver Mary Rose coin was donated by the Royal Mint to the Mary Rose Museum.