Southampton social work support staff in strike change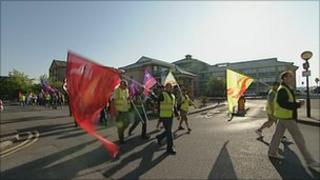 Some social work staff in Southampton who were due to strike on Wednesday are to walk out next week instead.
Unison said 25 administrative support staff in the city council's Safeguarding Children division would strike on Tuesday 9 August.
They will join 50 fostering and adoption workers in the first day of their seven-day walk out.
The change was due to a "technical error" in the notification given to the council about the action.
The union said Wednesday's strike involving hundreds of social workers was still due to go ahead. More than 450 workers are expected to walk out.
They join rubbish collectors and street cleaners who started a seven-day strike on Monday.
Unions said members were striking over the introduction of new contracts that have forced the majority of workers to take a 5% pay cut.
'Fair settlement'
More than 99% of the council workers signed the new contracts on 11 July.
Social workers are also unhappy about the council's decision to pay £1,400 "market supplements" to a limited number of social care staff in compensation for the cut in wages.
Unison branch secretary Mike Tucker said: "Business support staff in the Safeguarding division are just the latest group to strike in opposition to pay cuts.
"The campaign of industrial action will continue until the council reaches a fair settlement with its workforce."
Last week council leader Royston Smith said the strike was a "mile too far", saying it would put the welfare of vulnerable children at risk.
In February, councillors finalised budget cuts of £25m and said all workers earning more than £17,500, which is 65% of staff, would have their hours cut - resulting in a loss of pay.