Huhne visits Vestas turbine firm on Isle of Wight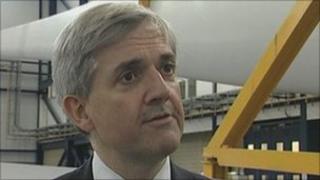 Energy secretary Chris Huhne has visited the Vestas research facility on the Isle of Wight, two years after the firm closed its factory in Newport.
The new research and development site in West Medina Mills, near Newport, designs and tests wind turbine blades.
Mr Huhne was visiting the island to see how it was progressing with its plan to become energy self-sufficient.
The community-led Eco Island group, set up by the council, wants the island to be carbon neutral by 2020.
Mr Huhne said: "Energy revolutions take a long time and what I see on the Isle of Wight is that there's a lot of commitment to this revolution and here at Vestas you're seeing the next generation of really impressive engineering when it comes to offshore wind, which is going to help bridge the gap in our power supplies nationally."
Vestas has 220 permanent employees on the Isle of Wight. The new test facility has two test halls both 170m long and 50m wide.
The original Vestas factory which was decommissioned in 2009 is now a prototyping centre for onshore wind turbine components.
At the time of its closure, workers staged an 18-day sit-in to try and save some of the 425 jobs that were lost.
During his visit to the island Mr Huhne, whose constituency is in Eastleigh, Hampshire, was also shown proposals to create an ocean energy centre to test tidal wave technology off the west and south coasts.
He also visited a boat builder which specialises in wind farm service boats and a woodburning stove manufacturer.