Ewan McGregor and Zara Phillips compete at Cowes Week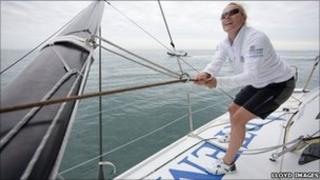 Ewan McGregor and Zara Phillips are taking part in a charity sailing race around the Isle of Wight.
The celebrities are competing against each other in the Artemis Challenge, a 50-mile (80km) race around the island during the Cowes Week regatta.
They join 12 crew on board the 18m (60ft) yachts, which are the sailing equivalent of an F1 car.
Five teams will battle for a £10,000 prize fund which will go to the winning crew's nominated charity.
The British crews will be pitting themselves against one Swiss and two French elite yacht racing teams.
Bucket loo
During the high-adrenaline sprint race which lasts about six hours, the stars will helm (steer) and winch the sails on the no-frills, carbon fibre yachts.
Stripped down for pure racing to reduce weight, even the toilet has been taken out and replaced with a bucket loo.
Zara Phillips, former world champion equestrienne, will be racing her third Artemis Challenge on Artemis Ocean Racing.
The Queen's newly married granddaughter will crew a boat skippered by record-breaking solo yachtswoman Dee Caffari.
Hollywood actor Ewan McGregor will join Alex Thomson, the youngest skipper ever to win a round the world race, on board the striking black boat Hugo Boss.
Last year the race was won by Mike Golding, who claimed the £10,000 charitable donation for the RNLI.
The Aberdeen Asset Management Cowes Week regatta sees around 8,500 sailors compete over eight days in the waters off the Isle of Wight.